Round table on the topic 'Living Heritage in the City' – 6 July 2020
16/03/2020
Intangible heritage during lockdown
14/05/2020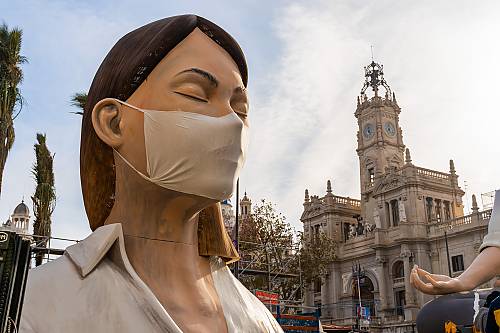 The Generalitat of Valencia postponed the celebration of Las Fallas Festival 2020 traditionally celebrated in March over coronavirus prevention. Spain, 12 March 2020.
© Vivitta/Shutterstock
While we are currently going through extraordinary conditions of lockdown on a global scale due to the coronavirus (COVID-19) pandemic, we are also seeing the ways in which the impact of this crisis goes beyond our physical health. Festivals and cultural events are being cancelled or postponed, and cultural practices and rituals are being restricted, causing disruptions in the lives of many people.
At the same time, we are seeing how living heritage can be a source of resilience in such difficult circumstances, as people continue to draw inspiration, joy and solidarity from practising their living heritage. With this in mind, UNESCO is inviting its partners to share their experiences on the role of living heritage during the pandemic and how its safeguarding has been affected in the immediate term.
We hope that these stories will help enhance our learning about safeguarding living heritage in the context of COVID-19 and inspire communities to learn from each other and exchange experiences.
Please send us your experience through our online form (English|French|Spanish). You may wish to include information directly collected by your organization or other stories that you are aware of related to living heritage during the coronavirus pandemic. We also encourage you to circulate this call with your networks and communities who may be interested.
For any further questions, please do not hesitate to contact us directly: ich.com@unesco.org.